How The Whyte Review Will Change Sporting Organisations Forever
Now that the dust has settled following the release of the much anticipated Whyte Review, it feels appropriate that we explore what the key findings are and how we expect organisations to react to the recommendations outlined by Anne Whyte QC.
In case you are unaware, the review was commissioned by Sport England and UK Sport in the wake of numerous high-profile allegations of athlete mistreatment in British Gymnastics. The findings expose failings at almost every level, particularly with regards to case handling, safeguarding, and management.
What Are the Key Talking Points?
It would be impossible to summarise such an important and lengthy review into just a handful of points, but with regards to the themes that were consistent throughout, there are several areas that are worthy of note.
CPD Was Almost Non-Existent
Despite CPD, or Continuing Professional Development, being a crucial part of most career progression plans, almost 80% of British Gymnastics' coaches had next to no evidence of additional learning being completed. This meant that a majority of those teaching had not been educated about the latest safeguarding and coaching methods that could then be incorporated into lessons, reducing the potential for positive outcomes.
There Was An Overreliance on Unpaid Welfare Officers
British Gymnastics relied heavily on unpaid volunteers to meet its welfare and safeguarding needs, despite their training being limited and their role far extending beyond what would be considered reasonable. In addition, there was little support and accountability, meaning that Welfare Officers were often unable to manage their enormous workloads, which resulted in casework being lost and essential details being missed altogether.
There Was A Disconnect at Almost Every Level
If an organisation cannot communicate effectively internally, there is little hope for those looking for guidance from the outside. The Whyte Review found that because of communication breakdowns at the various levels within British Gymnastics, complaints were being lost entirely, and possible safeguarding issues were never being addressed, despite the complainant passing on their concerns to the club's dedicated Welfare Officer.
What Will This Mean for Sporting Organisations?
The fallout of the Whyte Review will be far-reaching and will extend far beyond British Gymnastics, with it being safe to say that many of these issues will likely be present in other sporting organisations, as well as other membership organisations. It seems inevitable that we will see organisational change take shape across the sector.
The shining light that will likely come out of the Whyte Review is that it will force associations and clubs to reassess their organisational structures. It will encourage members to rethink how they have been treated and whether any behaviours that have previously been tolerated could be in breach of welfare and safeguarding guidelines.
It has become clear that there is a need for organisations to have the necessary structures in place that will protect members from harm, both mentally and physically. There must be accountability for those who are in positions of power and the ability for those beneath them to raise concerns in a way that will not result in further adverse treatment.
With us fast approaching the 2024 Olympic games in Paris and organisations needing funding in order to get their athletes ready to compete, changes will need to be made immediately if they are to receive said funds. It is expected that considering these revelations, safeguarding and member welfare will be under additional scrutiny.
What Are The Next Steps?
Anne Whyte QC made several recommendations throughout the Whyte Review that British Gymnastics need to make if they are to adequately serve their members and put safeguarding and welfare at the forefront of what they are doing. As a footnote to these recommendations, it has also been said that changes should be made within the next 24 months, with updates being provided after 6 and 12 months.
It has become clear that membership management will need to be overhauled at British Gymnastics, and this is likely to be required at other sporting organisations too, especially those that are made up of more vulnerable members. If an organisation cannot address the needs of those who belong to it, they will soon become disillusioned and leave.
Ensuring that those in positions of power and authority have up-to-date qualifications and are actively keeping up with the latest safeguarding and leadership guidelines has also emerged as a point of interest. Being able to track progress for those enrolled on CPD pathways as well as being able to verify the authenticity of awards and credentials will help to make sure that leaders are aware of what is expected of them.
What Can Be Done To Enable Positive Changes?
It is more important than ever that those with the ability to make changes are aware of what their responsibilities are. The Whyte Review laid bare that those leading British Gymnastics were unaware of what came under their authority and because of this, important issues were missed entirely and those under their care were continually failed on a large scale.
Here are a few ways that associations and clubs can begin to take steps to address the points raised in the Whyte Review:
Verify Qualifications And Ensure That They're Up to Date
The authenticity of qualifications matters, especially in sporting organisations where we see that most members are under the age of 18 and are therefore less likely to recognise abusive or manipulative behaviours. Leaders need to display that they are aware of the latest guidelines and have taken proactive steps to improve their subject knowledge.
Ensure That Vulnerable Members Are Protected
Something that became apparent as we worked our way through the Whyte Review was that those who are most vulnerable were let down the most by the people they should have been able to trust. There was a fear that complaints would not be picked up, highlighting why it is so essential that we verify those with power and can hold them to account.
Make Safeguarding A Central Part Of How You Operate
When working with members, especially those who are more vulnerable, we need to make sure that they are treated in a way that is both positive and beneficial for their development. It has become clear that safeguarding standards have not been given the attention they deserve, and we need to work hard to address this by increasing awareness.
Tahdah is an online system that is leading the charge in helping organisations better manage their members by ensuring that operations can be streamlined, guidelines can be better complied with, and members can be communicated with easily.
If you're after more content and are looking for information that'll help you make the necessary changes, download our Whyte Review guide here.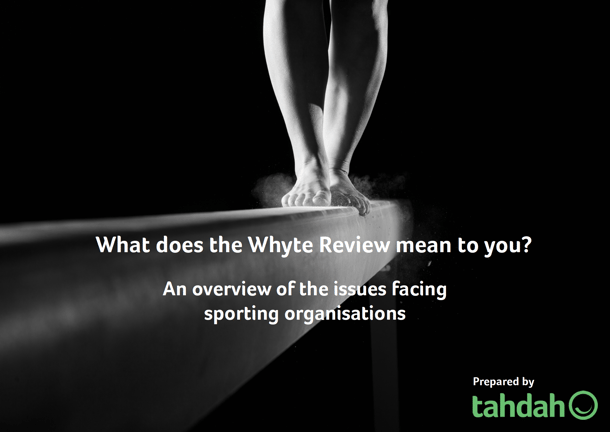 If you think of someone that could benefit from this information, Please SHARE